Ways to Charge your Laptop Without Charger

You often need to use a laptop, but you are often out of the office. Unfortunately, you don't even bring a charger for your laptop.
This is simple to do.  Chargers are very important for laptops. They are only a few ways to charge a laptop without a charger. 
Charge laptop with USB
Charge laptop using the phone
Charge laptop battery externally
Charge laptop in a car (using cigarette lighter + inverter)
How to Charge a Laptop Without a Charger
Can you charge a laptop without the charger, ways tp charge your laptop without a charger.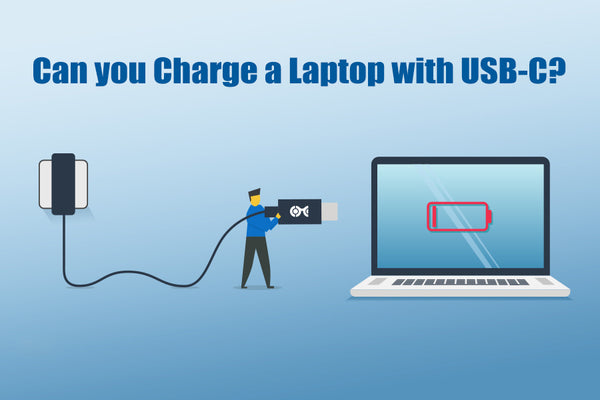 If your laptop has a USB-C port, then you can charge your laptop through a USB-C cable-you just need to make sure that the cable comes with a suitable usb c plug adapter. 
The European Union will use "similar or identical chargers" charging ports for all devices entering Europe. In this way, you can use the same cable as your phone, as long as the charger has enough output power
Plug one end of the USB-C cord into an outlet
Plug the other end of the USB-C cord into your laptop
* (1)Recommend a better charger for you
2, Take Advantage of Your Car Battery
You may need to spend a lot of time on the road, so you can't use a traditional wall charger. Fortunately, you can charge your laptop in the car. The car has enough power to charge your laptop. Make full use of it. It's really easy to charge your laptop.
(1)Using a power inverter is the most common way to charge a laptop computer with a car battery.
Plug the power inverter directly into the cigarette lighter socket of the car. They can power a device with a power of 300 watts, which is sufficient for your laptop.
(2)Use an AC power adapter.
Connect the USB Type-A connector on one side and the USB Type-C on the other side. All you have to do is to connect the USB charger to your laptop.
3, Charge Your Laptop with A Power Bank
Using a power bank is one of the easiest ways to charge a laptop. The power bank is a portable battery for laptop.
Connect the power bank to your laptop (they do not need to be plugged into the power outlet when charging the laptop)
There are many different models of power banks, and they have differences in capacity. You may be able to use the power bank to charge a lower-power laptop once or twice or more, depending on the capacity of the laptop power.
The important thing is to remember to charge your power bank. When your mobile power is exhausted, you will not be able to use it to charge your laptop.
* Please make sure to use a power bank suitable for laptops
4, You Can use an External Battery Charger.
Plug the external battery charger into the wall and put the laptop battery in the device.
* Every laptop brand has a specific external charger. When you decide to buy an external charger, make sure it is compatible with your laptop
5,Use your smartphone
Most smartphones can operate as a power bank to power your laptop. Obviously, your smartphone will not be able to power your laptop for a long time.
Get a Laptop Bag or Case
Whether you are traveling a long distance or just going on a weekend vacation, you should always carry a laptop bag or backpack with you. The laptop bag can store not only the laptop but also some accessories.
(1)Protect your laptop. A laptop bag is usually filled with soft shock-absorbing materials and even waterproof.
(2)First aid for your laptop. Bring accessories for your laptop to prevent it from running out of power but being unable to charge
Bring a fully charged power bank. used in emergency situations in case your laptop power  is not enough 
Bring a travel adapter. If you are traveling abroad, you may arrive in a country that does not have an outlet compatible with your laptop. 
Bring a USB port hub. A USB port hub provides more USB ports for your laptop that you can easily connect to all USB devices.